Celina Tent is a world leader in manufacturing fabric products and distributing event equipment.
瑟衲帐篷公司(Celina Tent)是世界领先的面料产品制造商和大型活动装备分销商
It's our mission to provide friendly customer service and quality products to an ever-expanding world. With primary sales driven by our 24/7 website, www.GetTent.com, we've been able to create informative and easy-to-use websites geared toward maximum customer satisfaction. The Celina Team is devoted to using state-of-the-art equipment, sourcing the highest quality materials, constantly improving our manufacturing methods and processes, and employing the best in motivated workers.
我们的使命是为持续发展的世界提供友好的客户服务和优质的产品。在此使命驱动下,我们的团队致力于使用先进的设备,采购高品质的原材料,雇佣积极主动的员工,持续不断地提高我们的制造工艺,为客户提供最大的满意度。
Production and Distribution Sites 制造和分销
Celina has established itself as a leader in tent and fabric product innovation, combining modern equipment and software to make the highest quality products while remaining competitive through economical engineering to ensure quick manufacturing and product delivery.
瑟衲公司在帐篷产品和面料产品创新方面已经成为世界领先者,我们结合使用现代化的软件和设备,设计和制造最高品质的产品,同时为保持产品竞争力,我们运用经济工程学以及采用最新制造工艺,确保快速制造和产品交付。
Main Facility- Celina, Ohio 美国总部
The main manufacturing campus at Celina is an 8,350 square meter (89,000 square foot) facility housing engineering and sales offices in addition to cutting, printing, and manufacturing divisions. The main hub of our company, the main facility also houses our quality-assurance lab.
美国总部位于美国俄亥俄州瑟衲镇(Celina, Ohio),拥有约9,000 平方米的制造厂房。作为美国总部,设有工程部门,销售部门,生产部门,印刷部门等多个部门,我们还拥有内部质量实验室以确保对产品每个环节的质量监测。
Distribution Center 美国仓储物流分销中心
As of 2017 Celina's primary storage and distribution will be moved to a new 9,030 square meter (97,200 square foot) Distribution Center, built adjacent to the main manufacturing campus. Previous warehousing was located in the nearby town of Coldwater, Ohio, having only 5,945 square meters (64,000 square feet) of storage space, which we've since outgrown. The Distribution Center is the workhorse of our whole operation, where high-demand items are kept stocked and ready for shipment.
公司现位于总部附近冷水镇(Coldwater, Ohio)的仓储地,约5,000平方米,已不能满足公司日益高速发展的业务需求。公司正在总部傍建造全新的仓储物流分销中心。该中心占地约10,000平方米,未来将为整个瑟衲公司承担产品存储,分销和物流配送。该中心预计2017年下半年建成,2017年底全面投入使用。
Celina Tent Taicang, Co. LTD 中国生产基地
Our new facility with additional space and better organization is the support base for our standard lines of all-white event tent tops. The entire facility covers 4,406 square meters (50,000 square feet) of manufacturing space, bolstering our constant need for our products in the highest demand.
欧洲分销中心位于英国莱斯特市,设立于2017年初,这是瑟衲公司在欧洲的主要运营中心,代表着我们开始进入欧洲市场。该中心储存有瑟衲公司最受欢迎的产品,包括经典系列支架帐篷,尖顶帐篷和印刷产品。我们在欧洲市场的销售会随着产品系列的丰富而逐渐扩大。
E-commerce: We strive to simplify the purchasing of quality products, including tents, shelters, and canopies through our integrated 24/7 sales website
Manufacturing: Innovative and efficient processes drive our ever-improving work flow, meeting the industrial fabric needs of commercial, industrial, governmental, and defense industries.
Printed Products: More specialized products, printed with custom or stock graphics to meet the needs of any situation, are a growing sector of the fabric product market.
电子商务平台:公司拥有独立运营的电子商务平台,以简化客户的采购流程,全时段为客户提供各类高品质的产品,包括帐篷、遮阳棚和雨蓬等。
产品制造︰ 创新、高效的工作流程促使我们不断改进制造工艺,以满足商业领域、工业领域、政府工程和国防领域对于面料产品的需求。
印刷产品︰ 更多专业化和印刷有定制化图案或标准化图案的产品,满足各种情况的需求,是我们其中一个快速增长的业务领域
Ecommerce
电子商务平台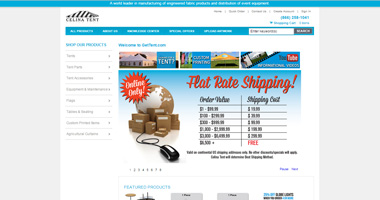 Manufacturing
产品制造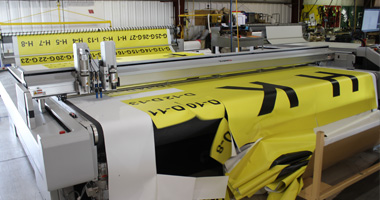 Printing
印刷产品